ERGs: Call To Action
In honor of Asian Pacific American Heritage Month (APAHM), NAAAP-LA has partnered with the Asian ERGs of Accenture, Airbnb, Salesforce and SoCal Edison, to host its first ERG panel event of 2020. Be inspired from an impressive panel of leaders who will be sharing how their ERG is engaging in the community and driving positive change.
What's an ERG?:
Throughout many Fortune 500 companies, employees come together as a formal group based on an affinity; whether it be ethnicity, sexual orientation, military status, etc. These affinity groups are known as Employee Resource Groups (ERGs). They serve as a representative "voice" for the employees and generally are considered the "face" of an organization when interfaced with the community. (Fun Fact: NAAAP-LA was founded by members of an ERG at Raytheon and Lockheed Martin).
Schedule:
5:00pm - 5:10pm: Introductions
5:10pm - 5:45pm: ERGs - Call To Action panel
5:45pm - 5:50pm: A Call To Action
5:50pm - 6:00pm: Q&A
About The Panel:
Yiran "Rachel" Zou (Accenture): Rachel is an Accenture consultant focused on talent & organization client work and has worked in a variety of different industries including high tech, healthcare, financial services, and pharmaceuticals. She's also the co-lead for Accenture SoCal APA ERG since 2017. In her spare time, she enjoys hiking and going to the beach with her two dogs, Luna and Hershey.
Shin Shuda (Accenture):

Shin is a Managing Director in Strategy and Consulting who helps clients create profitable businesses across various industries. He is one of Accenture's global leads for Competitive Agility Practice with a focus on ZBx, a proprietary method to achieve new levels of sustainable cost structure. Prior to Accenture, Shin led international business development and marketing at UNIQLO. A Los Angeles native and resident, Shin has also lived in Tokyo, Melbourne, New York, and Chicago.
Mable Huang (Airbnb): A former Fulbrighter, Mable currently oversees an employee resource group (ERG) at Airbnb as Asians@ Global Chair. She first joined Airbnb as a Community Organizer leading in-language Chinese-American community outreach in San Francisco. Since then, she's become a Digital Organizer in the Advocacy Policy & Media (APM) team where she supports external stakeholder communications at Airbnb. Outside of Airbnb, she also volunteers as Communications Lead for Asian Leaders Alliance, an alliance of Asian ERGs in the Bay Area, to give back to the greater community.
Jimmy Hua (Salesforce): Jimmy is a Lead Software Engineer at Salesforce, where he founded the API ERG. A community-oriented leader, he's the founder and co-president of Asian Leaders Alliance, a group that connects diversity and inclusion leaders to help empower the community and facilitate ERG collaboration. Based in San Francisco, he's also the founder of AsianEquality.com and sits on the Board of Directors as Chair for the Southeast Asian Development Center (Vietnamese Youth Development Center).
Ada Tsui (SoCal Edison): Ada is a System Admin who helps low-income customers in the CARE (California Alternative Rate for Energy) department. At SoCal Edison, she's a member of the ERG ASCEND and promotes diversity and inclusion through cultural events, leadership workshops, and networking opportunities, as well as positive brand image through community service.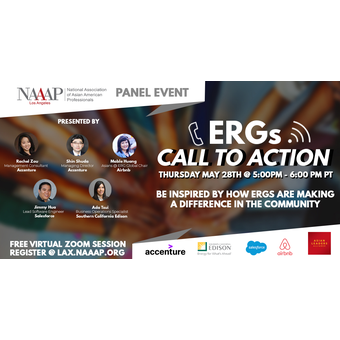 Virtual Event via Zoom - Link will be provided in advance of event.