Growing Your Branding With Public Speaking - Presented by Marian Bacol-Uba, TEDx and Keynote Speaker
Registration for this event has passed
Join us for an engaging workshop on public speaking and how to use it to grow your business or career while being authentic to your brand.
About this Event
Since the beginning of human history, storytelling (oral tradition) has been crucial to preserving culture, community and sharing our stories. In public speaking, it is authentic and inspiring stories that create impact and can motivate an audience into taking action.
Takeaways
Why it is the best time in history to become a public speaker or incorporate speaking into your business
How to identify your ideal audience and where to find them
An easy framework that can be applied to structure your talks both on stage and online through the content you create
How to position yourself as an expert speaker in your niche
Ways to find new speaking opportunities
What tools you need to get paid engagements or increase your speaker fees
About the Expert
Marian Bacol-Uba is the Founder of Thriver Lifestyle, a TEDx and Keynote Speaker, Conscious Business Coach and Bestselling Author. She is also the host of Thriver Lifestyle Podcast and Thriver TV.
Marian helps entrepreneurs and leaders grow their impact, influence and income through conscious public speaking. Her style of teaching and speaking is a beautiful balance of Strategy and Soul. She merges her 15+ years of marketing, event production and business development experience with her mission to create positive social impact and help elevate the voices of women and people of color.
Marian is also the Founding Member and USA Chapter Lead for KeyNote Women Speakers, a non-profit with a global mission to create more diversity on speaking stages. She has been featured on CBS-LA, ABC-7, International Business Times, Thrive Global, Medium, Elephant Journal, Bustle, SWAAY Media, Miami Under 40 and over 50 podcasts and publications. For more info visit www.marianbacoluba.com and follow her on Instagram @mbacoluba. Watch her TEDx Talk: http://bit.ly/MBUTEDxTalk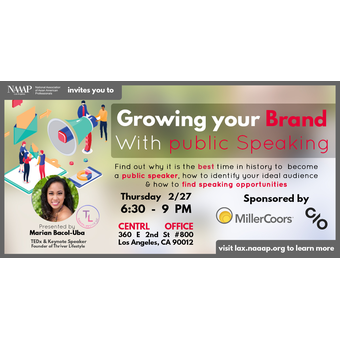 CENTRL Office DTLA: 360 E 2nd St #800, Los Angeles, CA 90012, USA