NAAAP and Yoga With Us
Hi NAAAP Members,
We are excited and honored to host a Yoga Class for you. The best thing we can do for ourselves is take care of our physical and mental health and stay connected during these unpredictable times of the Covid-19 Pandemic.
Please join us for a FREE Vinyasa Yoga Class exclusive to NAAAP members.
This class is suitable for all levels and will be taught by Kathy Chu, certified yoga instructor. We will focus on a full body stretch and strengthen our core and legs to keep us standing strong. The class will end with a 10 minute guided meditation to help us stay connected to our thoughts and remain positive in the uncertainty.
If you do not have a yoga mat, you can practice on carpet or use a blanket as your base.
There is numerous research that shows the benefits of a yoga practice. We look forward to staying strong together.
***If your heart and spirit guides you to make a donation, you can donate to nativetoearth.org/#donate. Your donation will go towards Native to Earth's initiative, "Yoga for Classrooms," to bring physical fitness and mental health awareness to the teachers and students working and studying from home during this pandemic.
If you are a teacher or parent who would like to offer this as part of your students/childs' curriculum in the future, please e-mail kathy@nativetoearth.org.
With gratitude,
Kathy Chu and NAAAP LA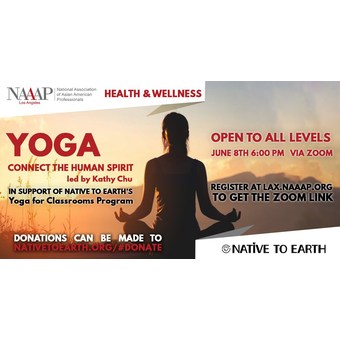 Virtual Event via Zoom - Link will be provided in advance of event