NAAAPLA Little Toyko Guided Tour
WE HAVE REACHED OUR REGISTRATION LIMIT! We are no longer accepting RSVPs.
Join NAAAPLA in celebration of Asian American Pacific Islander Heritage Month with a Guided Tour through Little Toyko!
We will walk through Little Tokyo, also known as Little Tokyo Historic District. We will learn about the history of what is considered to be an ethnically Japanese American district in downtown Los Angeles and the heart of the largest Japanese-American population in North America. It is the largest and most populous of only three official Japantowns in the United States.
Bring your kids, friends, and neighbor for a Saturday fun event.
Date: Saturday, May 21, 2022
Time:
10am - 10:30am - We will meet at Starbucks (138 S Central Ave, Los Angeles, CA 90012).

There is free street parking nearby around Starbucks.

10:30am - 11:30am Tour - Tour begins at promptly 10:30am.
11:30am - 1:00pm Lunch at TOT- Teishokuya of Tokyo at 345 E 2nd St. Los Angeles, CA 90012.
Cost:
Tour is free for members

Recommended $5 donation for non-members

Lunch is optional and not covered by NAAAPLA
Tickets are limited to the first 15 RSVPs.
Please wear comfortable shoes and attire. We look forward to learning about the history of the Japanese American district in LA with you!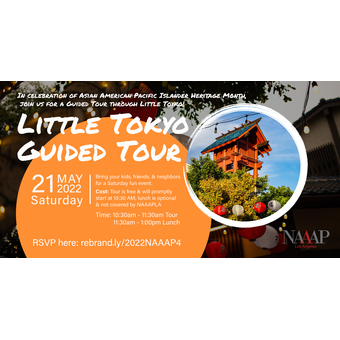 138 S Central Ave, Los Angeles, CA 90012