NAAAPLA Holiday Mixer at the Park
NAAAPLA is hosting a Holiday Mixer in-person event to celebrate the end of 2022 as a community. Join us to connect and reconnect with new, old, and virtual friends.
Bring your pets, kids, neighbors, and friends to meet our NAAAPLA Community.
Date: Saturday December 10, 2022
Time: 12pm-2pm PST
Location: LA State Historic Park (1245 N Spring St, Los Angeles, CA 90012)
Member Cost: $15
Non-member cost: $25
Food and drinks will be provided.
Disclaimer: NAAAP-LA will be following LA County guidance on the date of the event. Those with underlying medical conditions should weigh the risks and benefits of attending public events and use their best judgment. Although LA County Public Health does not require wearing a mask, it is recommended. NAAAP is not liable for any attendees' medical issues resulting from attendance at the advertised event.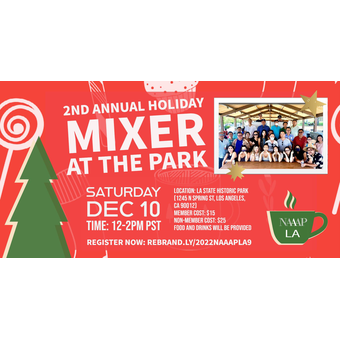 1245 N Spring St, Los Angeles, CA 90012