NAAAPLA Holiday Mixer
NAAAPLA is hosting a Holiday Mixer in-person event to celebrate the end of 2022 as a community. Join us to connect and reconnect with new, old, and virtual friends.
Bring your kids, neighbors, and friends to meet our NAAAPLA Community.
Address: 451 Gin Ling Way, Los Angeles, CA 90012
Near the Intersection of Gin Ling Way and Sun Mun Way, Los Angeles, CA 90012-1712
Restaurant Website: https://www.sageblossomrestaurant.com/
Each person will be responsible for their own food cost unless you have already purchased a ticket for this event.
Disclaimer: NAAAP-LA will be following LA County guidance on the date of the event. Those with underlying medical conditions should weigh the risks and benefits of attending public events and use their best judgment. Although LA County Public Health does not require wearing a mask, it is recommended. NAAAP is not liable for any attendees' medical issues resulting from attendance at the advertised event.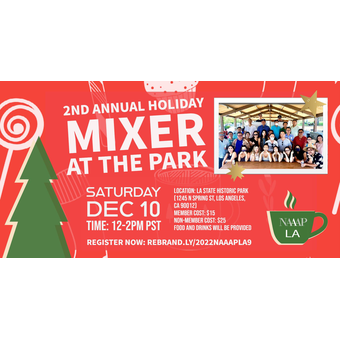 451 Gin Ling Way, Los Angeles, CA 90012