Creative Asian Women Panel
Women In NAAAPLA + TAPLA invites you to celebrate Women's Month with us!
We will hear from creative women business owners and learn how they paved their own path.

We will celebrate our community by participating in a Touchstone Art activity. Click on this link to learn more about Touchstone Art. Participants will take home their one-of-a-kind touchstones as a souvenir of inspiration.
Note: Select non-alcoholic drinks and snacks will be provided. Space is limited, please grab your tickets ASAP. Allies of Asian & Pacific Islander women are also welcome to attend.
Date/Time: Saturday March 11 from 10am-12pm PST
Location: 27 N Mentor Ave, Pasadena, CA 91106 (Lyd & Mo Photography Studio)
Cost: Member of NAAAP or TAPLA: $20
Non-Member: $30
Panelists Bio:
Lydia Tam
Lyd Tam is a portrait photographer and owner of Lyd & Mo Photography. Lyd's corporate background brings to Lyd & Mo a good balance of business sense and artistic expression. She speaks the language of the successful business owner and conveys a keen sense of marketing acumen to best direct where a photoshoot will deliver optimal results for any growing enterprise.
Kiki Yeung
Kiki Yeung is a stand up comedian, Mom and founder of Crazy Woke Asians, the always sold out comedy show featuring the funniest Asian American comedians in LA. Kiki's been featured in NBC LA as a "comedy pioneer", LA Times, Pix 11 NY, Timeout NY, The Seattle Times, King 5 New Day Northwest, San Diego Union Tribune, Asian Voices TV, SF Gate, San Francisco Standard, Broadway World, ASAM News, Whohaha Comedy Callout and more.
Kiki produced the first ever all Asian solo performance festival in LA at the Santa Monica Playhouse, partnering with NBC. She performs at The Comedy Store, Laugh Factory, Haha Comedy Club, Hollywood Improv, Carolines on Broadway, and the prestigious New York Comedy Festival.
In 2022, Kiki went on tour headlined her comedy docu-series "Kiki Funny Mama's Night Out", which highlights the funniest Asian American female comedians in Hollywood. She just finished a 4 week performances of her one hour comedy special, "Don't get sick and die!" at Santa Monica playhouse to rave reviews. Upcoming: Crazy Woke Asians at The Comedy Chateau March 18 and The Comedy Store April 5.
Catch Kiki and family on ABC/Hulu The Parent Test! Listen to Crazy Woke Asians with Kiki Yeung podcast and on YouTube. @kikifunnymama @crazywokeasians @kikifunnymamasnightout
@superngfamily
Disclaimer: NAAAP-LA will follow LA County guidance on the event date. Those with underlying medical conditions should weigh the risks and benefits of attending public events and use their best judgment. NAAAP is not liable for any attendees' medical issues resulting from attendance at the advertised event.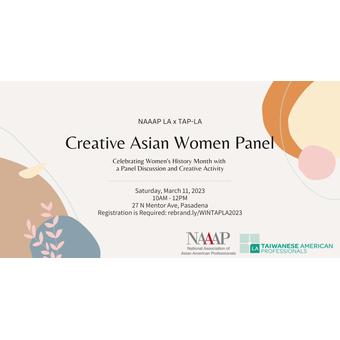 27 N Mentor Ave Pasadena, CA 91106